Blepharoplasty – Regaining the Beauty of Your Eyes
Are you looking tired ? Have you noticed tired looking faces with drooping eyelids or loss of orgy curve and fullness of lower eyelids area or complete hollowness, sagging eyelids, or vision problems due to saggy skin around your eyes? If yes, then you are an ideal candidate for Blepharoplasty.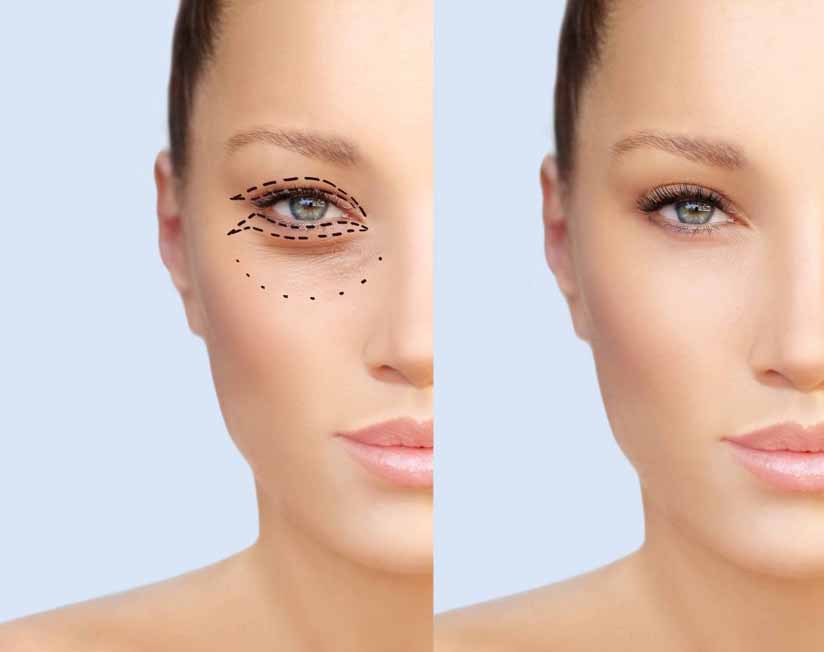 ARE YOU AN IDEAL CANDIDATE FOR BLEPHAROPLASTY
You are a suitable candidate for Blepharoplasty if you observe any of the following signs:
Additional skin affecting the blink of your upper eyelid
Sagging eyebrows, dark circles under the eyes
Faulty vision because of hanging upper eyelids.
Tired eyes
Makeup hassles in the upper eye area
In addition, you should be:
Healthy and without any medical condition
Above 35 years with lesser eye problems
A non smoker
Having a positive attitude and having realistic goals.
PREPARING FOR THE EYELID SURGERY
Before the start of the eyelid surgery, check out before and after photos of the patients, whom the surgeon has treated earlier. Know his qualifications and expertise. Also, discuss your concerns and possible surgery outcomes. The surgeon will also ask several questions related to our eyes, like about flaws in your existing eye health, whether you take OTC medicine, prescription drugs, or if you are addicted to alcohol, smoking or blood thinner ,tobacco, drug, etc.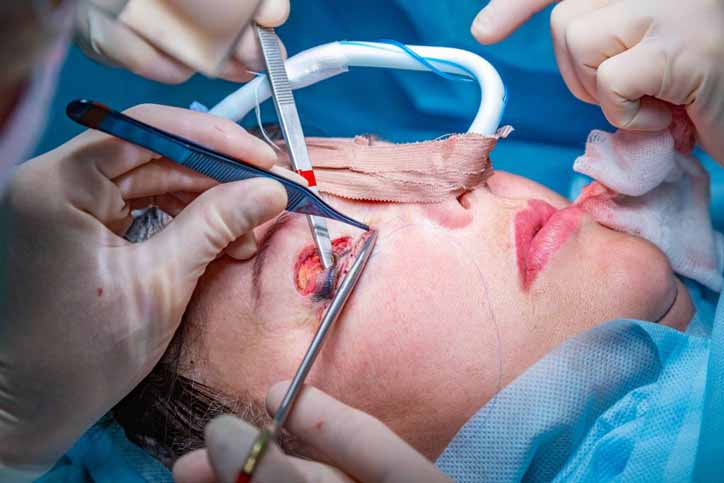 Additionally, you will need to undergo some tests to know if you fit for eyelid surgery:
Physical test: Includes examination of tear production and eyelid measurement.
Vision test: Involves eyesight and peripheral vision checkup
Capturing Eyelid photos:This will help the Blepharoplasty surgeon to use during the planning, insurance claim support and varied other surgery related aspects.
THE DON'TS
As a precautionary measure, the eyelid surgeon will most probably recommend you to avoid smoking, driving and taking OTC medicines till you undergo Blepharoplasty.
THE EYELID SURGERY PROCEDURE
Blepharoplasty can improve the appearance of your upper and lower eyelids appreciably. For this, the surgeon performs a pre-operative analysis of your eyebrow symmetry, bone and facial muscle structure. This helps him to decide the extent to which he should remove sagging skin, muscle or fat.
Eyelid surgery steps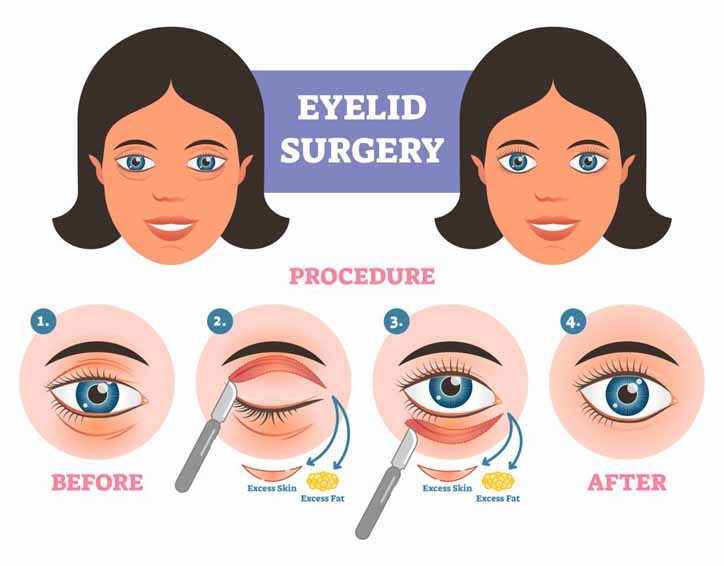 The surgeon performs these important steps to ensure acute precision during the surgery:
TYPES OF RHINOPLASTY
As a precautionary measure, the eyelid surgeon will most probably recommend you to avoid smoking, driving and taking OTC medicines till you undergo Blepharoplasty.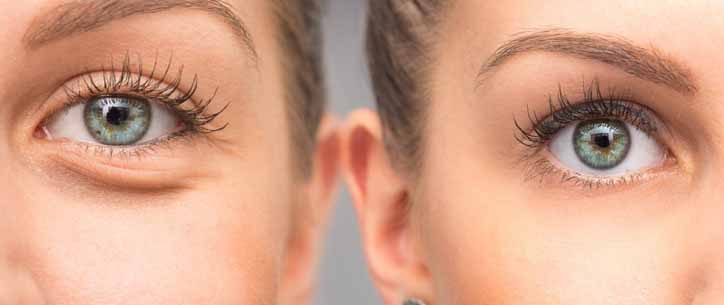 Local anesthesia on the eyelid of the patient.
Marking the places in the upper and lower eyelids that need elimination of excess tissues.
Incision creation depending on the operated portion, whether upper or lower eyelid.
Tissue removal with the help of surgical scissors, scalpels, RF cutting devices, etc.
Fat redistribution in the lower lids to break from inflammations or bulges.
Beautification of areas around eyelids and eyebrows with tissue adhesives or self-dissolving and invisible sutures to cover any detectable scar.
Care for patients with special conditions, like if they have dry eyes, the surgeon will remove only limited tissues.
Laser method for blepharoplasty, as it can overcome the wrinkles emerging in the eyebrow and eyelid.
EYELID SURGERY COST
The cost of blepharoplasty differs as per your deformity and subsequent correction it needs. An average eyelid surgery would cost around 50000 INR .This however excludes OT facilities, anesthesia, medications, etc. In India, you can undergo this surgery at around 100000 INR. Furthermore, if you wish to enhance your appearance, then your insurance may not cover the surgery. So make sure to mention vision improvement as the reason behind the procedure.
RECOVERY PERIOD AND AFTER CARE
Patients usually take around 2 to 4 weeks to recover from the surgery.
Instant action
The staff will take you to the recovery room for continuous monitoring after the surgery.
You may leave for home if everything appears fine.
You may experience faulty vision or light sensitivity as the probable after effects.
One to two weeks.
In the first two weeks of the surgery, the surgeon will recommend:
Complete rest
Taking medicines like ibuprofen if you notice swelling or pain
Applying ice packs to the eyelids
Frequent sleep
Zero screen time
Wearing dark glasses to protect eyes from sunlight and wind
Moreover, you will need to visit the clinic once or twice in the first two weeks for surgery evaluation and stitch removal. You can get back to usual activities within 10 days of the surgery. In case of breathing problems, bleeding, visual impairment, chest pains, etc., quick medical intervention is inevitable.
BLEPHAROPLASTY – POSSIBLE RISKS
Eyelid surgery is likely to have less risks as compared to other procedures. Some of them include:
Reaction due to Anesthesia
Infection & bleeding
Red, bruised, itching and swollen eyes
Faulty vision
Dry eyes
Scars on the operated area
Adhering to the surgeon's recovery tips can help you to avert these risks. Still, during an emergency, instant medical intervention is essential.
HOW EFFICACIOUS IS THE EYELID SURGERY?
Eyelid surgery is effective if carried out with all the necessary precautions. But, in case of any adverse outcome, a follow up surgery becomes necessary. Patients often choose this procedure to support an associated treatment like brow lift surgery for saggy eyebrows, or full facelift for enhanced facial appearance. Be aware that all these surgeries will accompany realistic results, so do not expect miracles. As for duration, an ideal blepharoplasty surgery takes around 45 minutes to 4 hours to complete depending on the expertise of the surgeon and the procedure's complexity.
THE BOTTOM LINE
Signs like droopy eyelids, dark circles or sagging skin may cause vision problems. These ailments also make you look older at an early age. To get away with these signs, eyelid surgery or blepharoplasty is an ideal procedure. For best results, make sure to approach a SKILLED AND TRAINED SURGEON and cost-effective eyelid surgeon.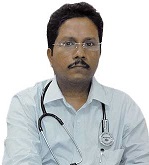 Dr. Akshay Rout
THE INFORMATION IS BEING PROVIDED BY COSMETICSURGERY.IN AND HAVE NO INTENTION TO REPLACE THE MEDICAL ADVICE OF YOUR DOCTOR. PLEASE CONSULT YOUR DOCTOR DIRECTLY FOR ADVICE ABOUT A SPECIFIC MEDICAL CONDITION. THIS DOCUMENT WAS LAST REVIEWED BY DR. Akshay Rout, PLASTIC SURGEON ON: 12-JUN-2020